English
In today's fast-paced, information-based society, it is vital for young people to be confident communicators, skilful readers and effective writers. By studying English, you will develop an understanding of how language works by exploring and analysing a wide range of fiction and non-fiction texts. It is important that you understand how language use has changed over time and so you will be looking at work that is very modern and reflecting on other similar pieces written hundreds of years ago.
A qualification in English is fundamental to your journey as a young person: it enables you access higher education and to gain employment, supporting you in achieving your ambitions. There are a number of skills to develop that will ensure that you succeed: as well as becoming highly skilled analysts of both language and literature, you will enjoy writing for a range of different audiences and purposes in addition to becoming a confident speaker in group discussion and presentations. The skills secured in English can also be used in subjects across your curriculum.
Exam Specification
English Language GCSE Specification
English Literature GCSE Specification
English Language A Level Specification
English Literature A Level Specification
Key Stage 3
In Years 7 and 8, students are mostly taught English in mixed-ability groups. In Year 9, classes are streamed. In addition to classroom-based learning, you will enjoy reading for pleasure sessions in our library, 'Starbooks', with students in Year 7 also accessing guided reading sessions every fortnight. During this phase of your education, you will build on your knowledge from primary school whilst also making preparations for success at GCSE study. You will study Shakespeare, explore the work of writer, Tom Rogers by using his novel, 'Eleven' to explore your writing style, you will investigate the gothic genre and delve into dystopian and mythological writing. You will explore a range of poetry from across the ages and explore the world around us by thematically exploring and creating texts centres on social responsibility and our local area. You will also develop your voice as a writer by securing your craft in a range of text types, for different audiences and purposes.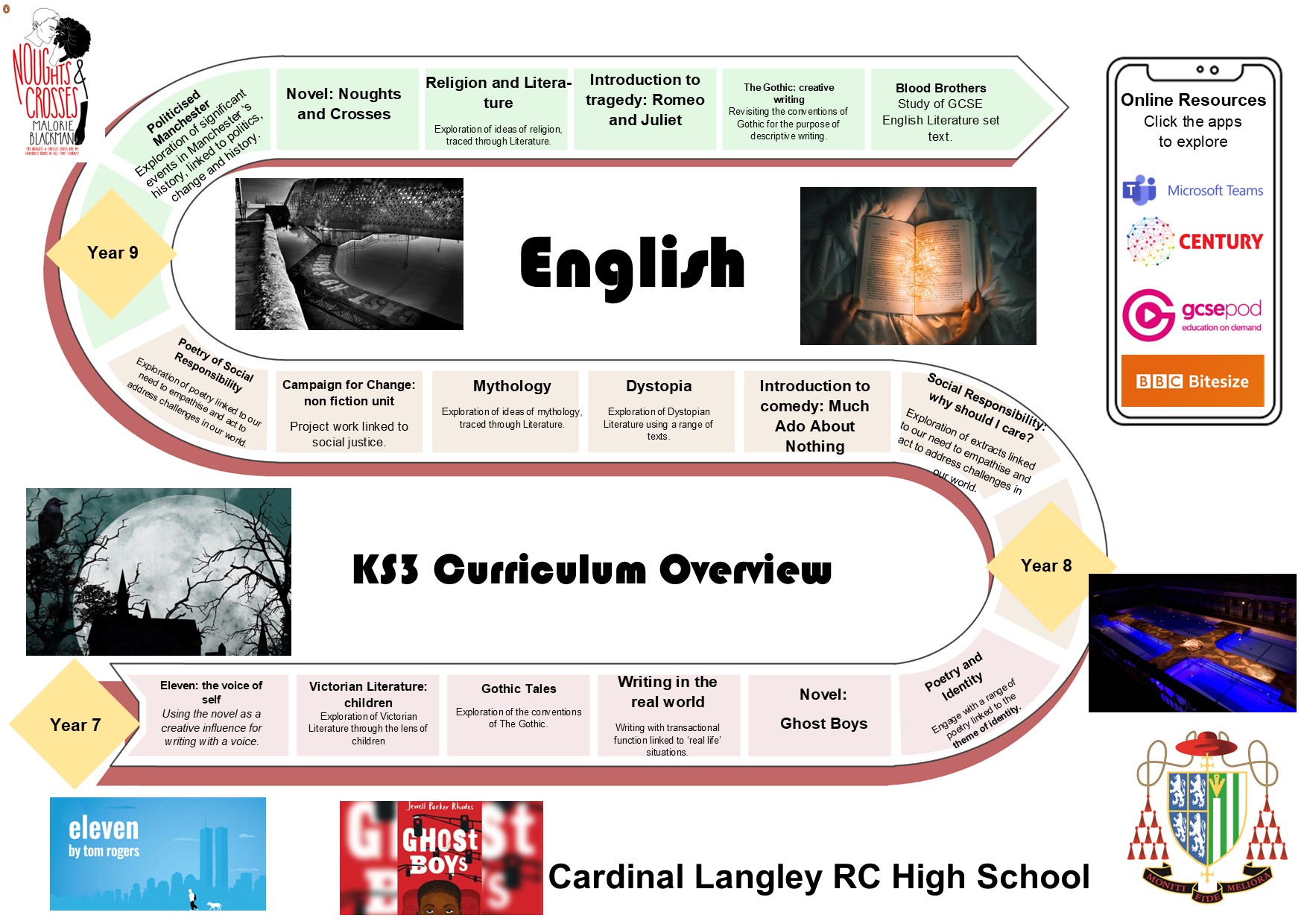 Key Stage 4
All students will be entered for GCSE English with the vast majority also completing an additional GCSE in English Literature. During the programme of study, you will become fully prepared for the demands of the AQA specifications in both English and English Literature, developing on the foundations of KS3. Our current notable authors include: William Shakespeare; Charles Dickens and Willy Russell, along with the distinguished authors covered in the AQA Poetry cluster, 'Love and Relationships'. Through close examination of writers' craft, you will demonstrate your flair in a range of creative writing circumstances whist also cementing your skills in relation to Spoken Language.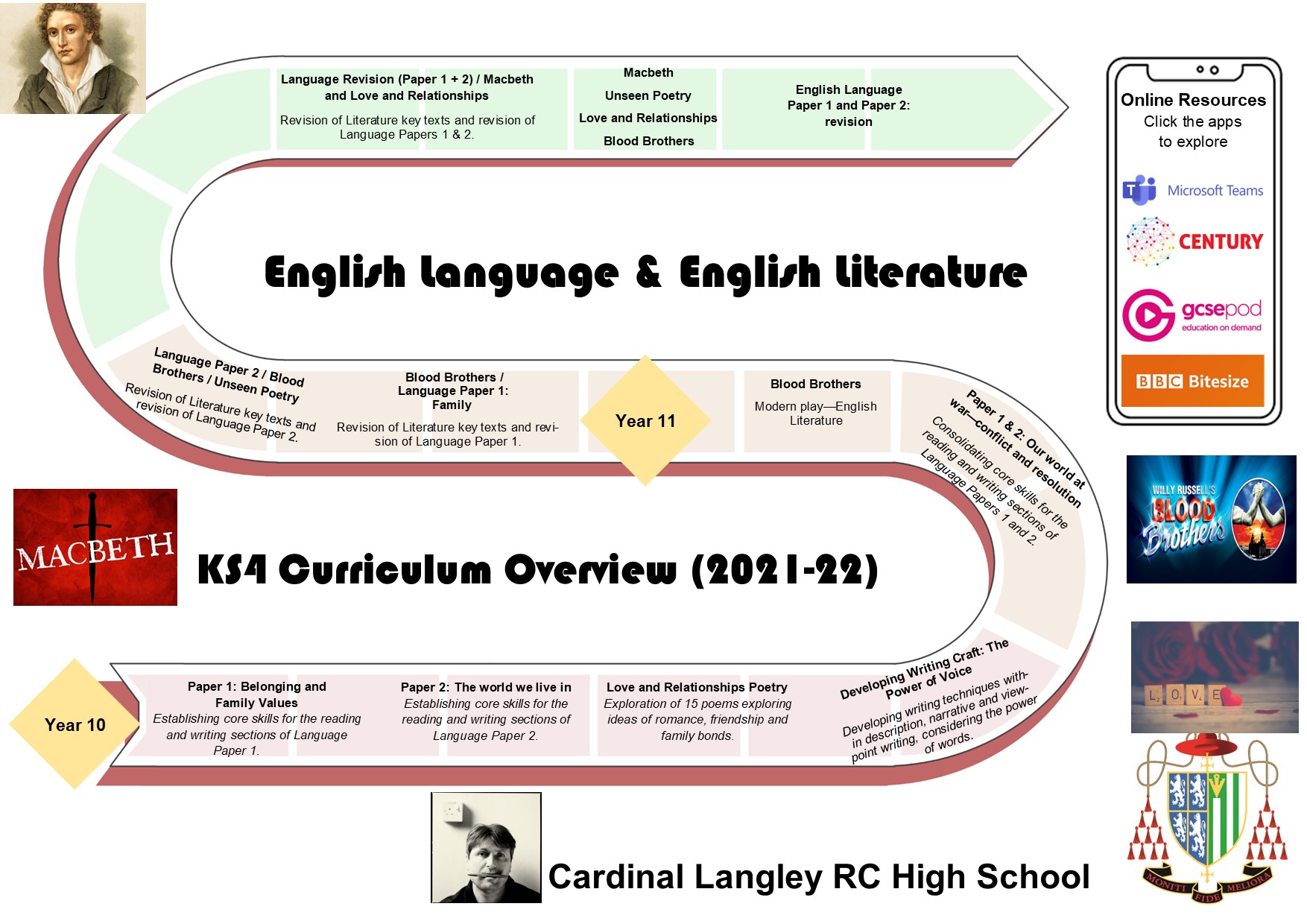 Sixth Form
All employers, colleges and universities will insist on a good pass in English at GCSE level. However, our A-Level courses will help to further prepare you for University and employment. A-Level English Literature and A-Level English Language are popular and successful courses which can lead to University studies within English based courses as well as Journalism, Creative Writing and Media Studies, to name just a few of the additional options available to you.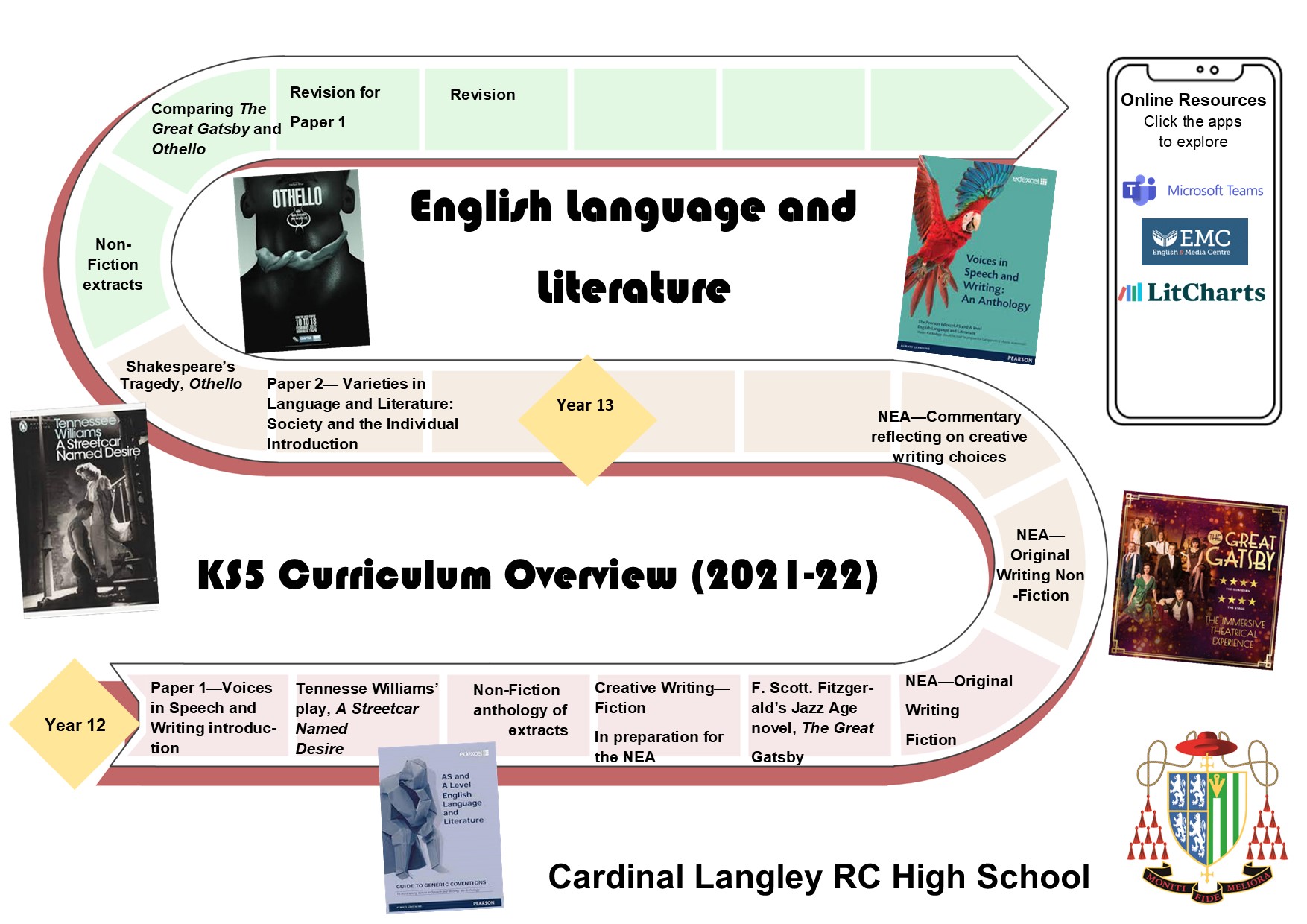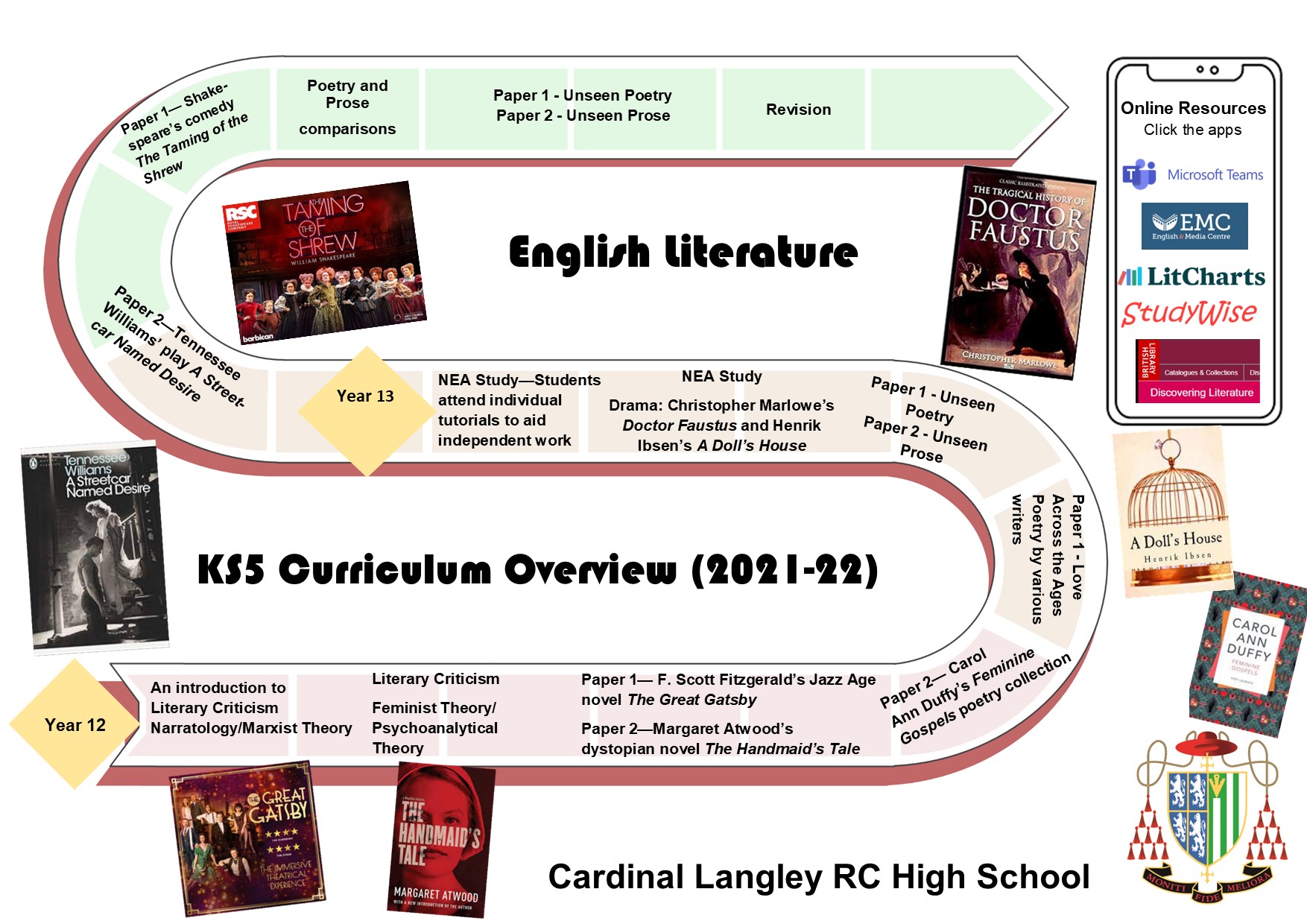 A Level English Language allows you to explore why people use language in so many different ways. The English Language is continually evolving and through this programme of study, you will be able to explore the change and evolution of language, reviewing and forming your own opinions on its use. The reasons for language variety can be down to factors such as gender, power and technology but also, you will also explore development of language from the point of view of children; examining how they learn to talk, read and write. Through this programme of study you will be encouraged to explore:
• Texts and their variations with relation to subject, voice, audience, purpose, genre, mode, time period and place;
• The influence of context on the construction of language;
• Language analysis from the position of graphology, phonetics, lexis, grammar, semantics, pragmatics and discourse;
• How children use language to function using different modes of communication;
• Relevant theory and research regarding language.
Through personal study and engagement with language, you will be able to explore an aspect of language in the form of a data driven investigation. Through this non-examined assessment, you will also be able to create one piece of original writing with an accompanying commentary.
| | | | | |
| --- | --- | --- | --- | --- |
| Assessment – English Language | | | | |
| Paper | Unit Title | Assessment | AS % | A Level % |
| 1 | Language and the Individual | Written exam: 1 hour 30 minutes | 50% | |
| 2 | Language Varieties | Written exam: 1 hour 30 minutes | 50% | |
| 1 | Language, the Individual and Society | Written exam: 2 hours 30 minutes | | 40% |
| 2 | Language Diversity and Change | Written exam: 2 hours 30 minutes | | 40% |
| | Non-exam assessment: Language in Action | Non-exam assessment | | 20% |
A level English Literature is a challenging and exciting course. You will experience a wide range of texts including Shakespeare, modern literature, drama and poetry. Taking a contextual approach, you will explore Literature from the point of view that no text exists in isolation but is the product of the time in which it was produced. You will learn to evaluate the different and conflicting interpretations of a text and you will become confident about expressing your own judgement.  Through this programme of study you will be encouraged to explore:
• The study of a literary theme over time;
• The study of literature through engaging with the diachronic (reading texts written across widely different time periods that explore the same theme) and synchronic (reading texts written with a narrower and clearly defined time period) perspectives;
• The study of texts, both singly and comparatively, chosen from a list of core set texts and a list of chosen comparative texts;
• Writing about texts in a number of different ways.
As a lover of literature, you will read widely – with some direction from your teacher but more commonly dictated by your own research and passion for fiction – to enable you to connect fully with the theme that you are exploring. Through your Independent Critical Study, you will engage with an aspect of critical study of two texts on a theme of your choice. Possible themes include: the struggle for identity; the gothic; war and conflict; representations of gender and representations of social class and culture.
| | | | | |
| --- | --- | --- | --- | --- |
| Assessment – English Literature | | | | |
| Paper | Unit Title | Assessment | AS % | A Level % |
| 1 | Love through the ages: Shakespeare and Poetry | Written exam: 1 hour 30 minutes | 50% | |
| 2 | Love through the ages: Prose | Written exam: 1 hour 30 minutes | 50% | |
| 1 | Love through the ages | Written exam: 3 hours | | 40% |
| 2 | Texts in Shared Contexts | Written exam: 2 hours 30 minutes | | 40% |
| | Independent Critical Study: Texts across Time | Non-exam assessment | | 20% |
The A-level English Language and Literature specification draws on the academic field of Stylistics in order to create an integrated English Language and Literature course which brings together literary and non-literary discourses. This course integrates literary and linguistic fields via shared concepts about the way language choices create representations, both in literary and non-literary texts: words create worlds, both in literature and elsewhere. This course differs from those focused primarily on literature by extending its coverage beyond literature to explore differences and similarities between literary texts and others; it differs from those primarily focused on language by bringing the nature of literary discourse into sharper view.
A-level English Language and Literature offers unique opportunities to consider issues of 'literariness' and 'literalness' that tend to remain unquestioned in the other Englishes. This specification offers opportunities for students to develop their subject expertise by engaging creatively, critically and independently with a wide range of texts. Using literary and linguistic concepts and methods, students analyse literary and non-literary texts in a range of modes and genres, in the process gaining insights into the nature of different discourses and ideas about creativity. Students develop skills as producers and interpreters of language by creating texts themselves and critically reflecting on their own processes of production. The key areas of learning embedded in the specification are: the representation of place, point of view and genre in prose, the forms and functions of poetic voice, the role of the individual in society, conflict in drama, creative transformations of texts, researching and writing.
| | | | |
| --- | --- | --- | --- |
| Paper | Unit Title | Assessment | A Level % |
| 1 | Telling Stories | Written exam: 3 hours | 40% |
| 2 | Exploring Conflict | Written exam: 2 hours 30 minutes | 40% |
| | Independent Critical Study: Texts across Time | Non-exam assessment | 20% |