The spiritual development of students is at the centre of our purpose as a Catholic school. As part of the Salford Diocese family of schools we express our Welcome, Word,Worship, Welfare and Witness in all that we do.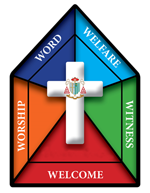 WELCOME
As God's children we welcome all groups in to our school. Differences are celebrated.
We endeavour for inclusion of all communities, ensuring that the pastoral care of staff and pupils show the values of the Gospel message of love, respect and forgiveness.  Our Transition and Inclusion arrangements complement this.
Pupils, parents and visitors often comment on how welcome they feel in our school.
WORD
Religious studies is the core of our school community and its beliefs and values permeate the life of the school.
Religious Studies GCSE results are good and improving. A level results are outstanding and in the top 10% nationally.
Pupils and staff witness to the Word of God in subject areas other than RE (e.g. 'the Big Questions')
WITNESS
Our mission statement recognises every part of the school community, through policies, experiences in school and working together.
We witness to the values of the Gospels such as compassion, justice, service and reconciliation in all aspects of school life, through our interactions with one another. We treat everyone we meet with respect and dignity.  We witness through our charity work too.
WELFARE
All staff and pupils are encouraged to "live life to the full" and walk together in our journey of faith with Christ.
We want pupils and staff to work together, care, respect and accept all individuals in our school community and the society around us.
Recent examples of this include fundraising for Middleton Food bank, Good Life Orphanage, Homeless shelter, CRY, Mind as well as staff providing gifts at Christmas for low earning families.
WORSHIP
Throughout the school year we worship together, as a community. We are given opportunities through prayer, reflection, liturgies and Mass to celebrate our community and its relationship with God.
Daily prayer, weekly assemblies, weekly Mass, seasonal services, retreats (Savio House / Kintbury) all contribute to this.
We plan worship to develop pupils and staff spiritual, moral, social and cultural ideals.
"God inspires us to walk in the footsteps of His Son"

St Jean Baptiste de la Salle

Good Life Orphanage, Kenya
Cardinal Langley supports the Good Life Orphanage in Kenya and provides funding and prayerful support to allow them to continue their work. Staff and students regularly travel to work at the orphanage which caters for the educational and social needs of the poorest in society. This experience is open to students in the Sixth Form and has the power to transform the lives of staff and students in both schools.
Lourdes Pilgrimage
Staff, students and governors from Cardinal Langley join with the Diocese of Salford to work with the sick and elderly. This is a highlight of the year for all those involved and is a profoundly deep and lasting experience for all those who take part.
Liturgy
Thanks to the support of Fr Kieren Mullarkey and other local priests, staff and students have the opportunity each Thursday to attend Mass in the school chapel. Whole school celebrations follow the liturgical year with specific events for Advent and Lent as well as our annual Founders Day celebration in July.
""Example makes a much greater impression than words""

St Jean Baptiste de la Salle
Ethos Leaders & Genesis
Our students are at the heart of the spiritual life of our school and are a model of collaborative ministry where staff and students will work together as 'People of God'. All students in Years 7 & 8 who want to make a difference are invited to become Ethos Leaders who take part in a range of spiritual, community and fundraising activities. Students take the lead in assemblies and liturgies, with the guidance of staff, strengthening their own faith and making a significant contribution to the school community. In Key Stage 4 & 5 students will have the opportunity to join the Genesis group and continue their work further. Students are invited to the annual Lasallian Camp at St Cassian's Centre in Kintbury and can meet with like-minded students from all over the UK for spiritual and enriching activities.
Charity Work
Students are encouraged to think of those less fortunate than themselves and are asked to give up their time to fundraise for a variety of charities throughout the year. In the past few years many thousands of pounds have been raised through our annual sponsored walk which has gone to support the Good Life Orphanage and other local, national and international charities. During Lent there is a specific focus on St Joseph's Penny which supports Caritas in their work across Salford Diocese.