School Bus Services
September 2023 School Bus Timetable for the 781 & 788 Service (click on the image to enlarge)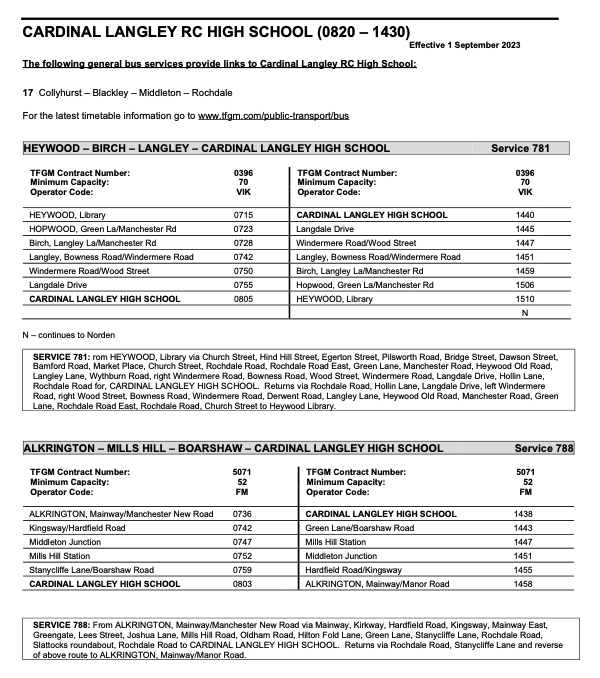 Cardinal Langley Bus timetable
Timetable for the No. 17 Service (Manchester – Middleton – Rochdale)
17 Timetable (from 30th May 2021)
Over the coming weeks, timings for school bus services may change. For the most up to date information about services to and from school, please visit the Cardinal Langley page of the Transport for Greater Manchester(TfGM) website: https://tfgm.com/schools/rochdale/cardinal-langley
Currently the information for school bus services on the TfGM website is linked to a pdf document but, over the coming weeks, live times will be added into the TfGM system and linked to on the page. This will allow students to accurately see in real time at what time services will arrive and depart from their bus stops and the full route mapped out.
Information from Transport for Greater Manchester (TfGM)
Around 80% of Greater Manchester's bus services are run by commercial operators, who decide routes, timetables and set fare levels. TfGM financially supports the remaining 20% – including dedicated school services. School bus services operate on school days only, unless otherwise stated.  Although provided primarily for school children, members of the public may use these services, with the exception of Yellow School Buses.
An introduction to School buses and concessionary fares for students in Greater Manchester
Passengers can pay a fare to the driver for each journey. However, students will need to show an IGO card to travel at the concessionary (reduced) fare. If students do not have an IGO card, they will have to pay a higher fare.
The majority of TfGM-funded school services charge a standard fare, although some journeys do have additional fare bands. Daily return tickets are available on many services. In some cases, the return ticket can also be used for travel on other journeys which serve similar areas – even if it is provided by a different operator.
If a daily return ticket is available on TfGM funded services, students can also buy a weekly scholar's ticket, which costs £6.50. These are available from the bus driver on all services where they are applicable. To help the driver, please try to have the correct fare when buying your ticket.
A summary of fares and ticketing information on all school services can be found at https://tfgm.com/tickets-and-passes/bus-school-bus-services
There are also a small number of TfGM funded services where the operator sets the fares. You will need to check with the operator what fares are available.
Yellow School Buses
Yellow School Bus journeys have special travel conditions and usually can only be used by students who hold a Yellow School Bus pass which is valid for that journey (accompanied by an IGO card).
Please note: Due to the coronavirus pandemic, TfGM will not be issuing Yellow School Bus passes for the upcoming 2021-22 academic year. Instead, all Yellow School Buses will continue to operate as regular dedicated school buses, meaning no passes will be needed and any child can board any service. This will allow more students to use the buses at a time when the overall capacity on the network may be reduced.
For more information about the Yellow School Bus go to https://tfgm.com/tickets-and-passes/bus-yellow-school-buses
The IGO card
An igo card costs £10 and lasts until 31 August after your 16th birthday.
The card allows 11-16 year olds to travel using child tickets on buses and trams in Greater Manchester. It also allows all children, including 5-10 year olds, to buy bus tickets that are not available without an igo, like the TfGM schools weekly ticket and 10 trip carnet (available on school bus services only), smart versions of  System One Junior, AnyBus tickets and some tickets sold by individual bus companies.
You can also buy child tram tickets at getmethere.com and load them onto your igo card.
For more information about the IGO card or to download an application form, go to https://tfgm.com/tickets-and-passes/igo-pass
(Please note: students who are entitled to a free Scholar's Travel Pass for journeys between home and school and students aged between 16 and 19 who have a Scholar's Concessionary Pass, do not need an IGO Pass for these journeys)
OUR PASS
Our Pass offers eligible 16–18-year-olds free bus travel on most local bus services across Greater Manchester, making it easier to access education, work, training, culture and leisure in the city region. Our Pass also provides access to a range of exclusive offers, discounts and experiences for 16–18-year-olds in Greater Manchester.
Cost: £10 one-off administration fee
For more information and to apply, visit https://ourpass.co.uk/about
For the Go North West price changes, please see attachment here.