Inclusion
We are dedicated to promoting diversity and inclusion in all its forms, through an ethos of respect for difference, equality of opportunity and fair treatment across all protected characteristics. We strive to be an inclusive environment where everyone feels able to be themselves and feels comfortable celebrating who they are. We promote good mental health, through initiatives such as our involvement in the BeeWell project, and our key workers and pastoral team help create a safe space to talk about mental health issues.
Equalities Network
Cardinal Langley's Equalities Team work very closely with the local authority and training providers to empower students to lead on our continuous equality drive. We have various groups within our Equalities Team who focus on specific aspects such as racial equality and LGBTQ support. Sixth Form students along with male members of staff have taken part in the 'Stand by Her' training to act as allies for females both now and in their future world of work. In July 2021, students from our Equalities Team worked together to produce a manifesto which underpins our commitment to inclusion. They met with subject leaders to contribute to curriculum planning and they planned our very first Appreciation Day in October 2021, where 100+ students and their families came together to share music, art, food and spoken word.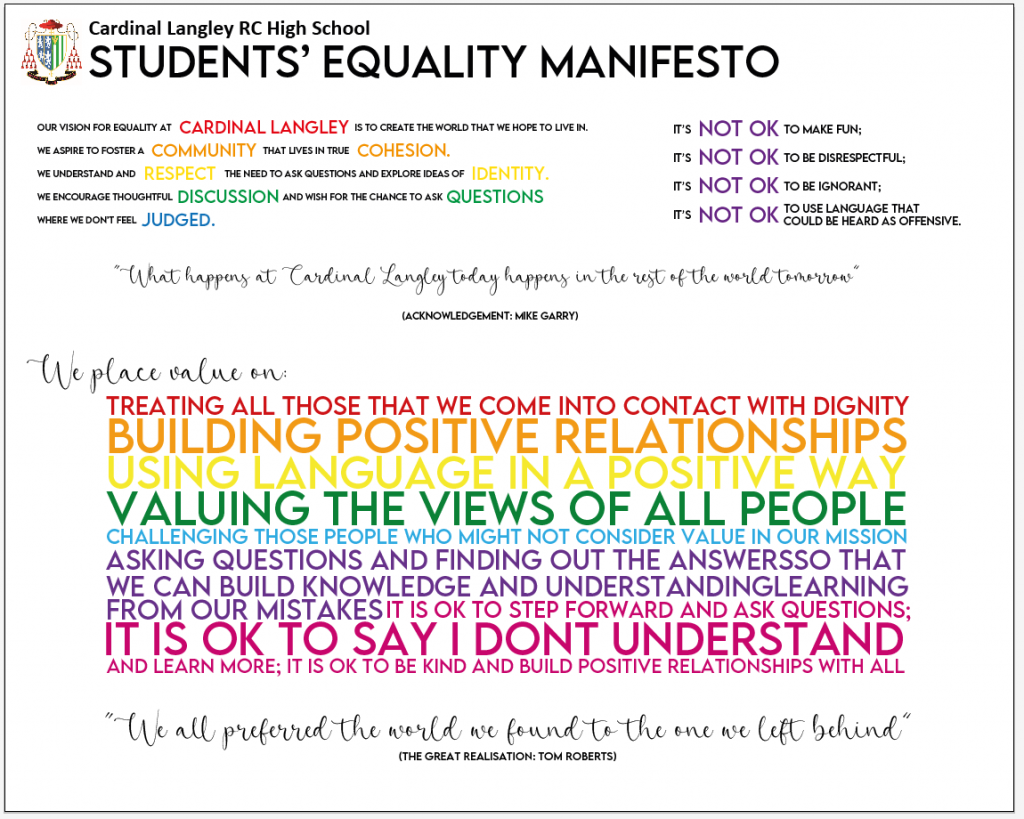 The Hub
Cardinal Langley's Hub was introduced in September 2016 to cater for the needs of a number of students who experience difficulties with social, emotional and behavioural needs. Students who access The Hub full time follow The Hub timetable (Year 11 students have their option subjects worked into this) whereas those accessing The Hub for one or two subjects will keep to department schemes of learning. Formal subject assessments are completed by all students in The Hub and marked by subject teachers. Students who access The Hub full time have reviews every three weeks to determine when reintegration to classrooms might begin.