Photography
Students will be introduced to a variety of experiences exploring a range of photographic media, techniques and processes. They will be made aware of both traditional and new technologies.
Students will explore relevant images, artefacts and resources relating to Photography and a wider range of art and design, from the past and from recent times, including European and non-European examples. This should be integral to the investigating and making process.
Students' responses to these examples must be shown through practical and critical activities which demonstrate the candidates' understanding of different styles, genres and traditions.
Students will be made aware of the four assessment objectives to be demonstrated in the context of the content and skills presented and of the importance of process as well as product. Candidates should use sketchbooks/workbooks/journals to underpin their work where appropriate.
There is no specific requirement for candidates to demonstrate drawing skills in this endorsement unless they wish to. Students may use traditional methods and/or digital techniques to produce images.
Potential students will be required to complete a small practical pre-course task that demonstrates commitment, understanding and creativity before beginning the course.
Exam Specification
Photography A Level Specification
Sixth Form
Students are required to work in one or more area(s) of Photography, such as those listed below. They may explore overlapping areas and combinations of areas.
– Portraiture
– Landscape photography (working from the urban, rural and/or coastal environment)
– Still-life photography, working from objects or from the natural world
– Documentary photography, photo journalism
– Experimental imagery
– Photographic installation, video, television and film.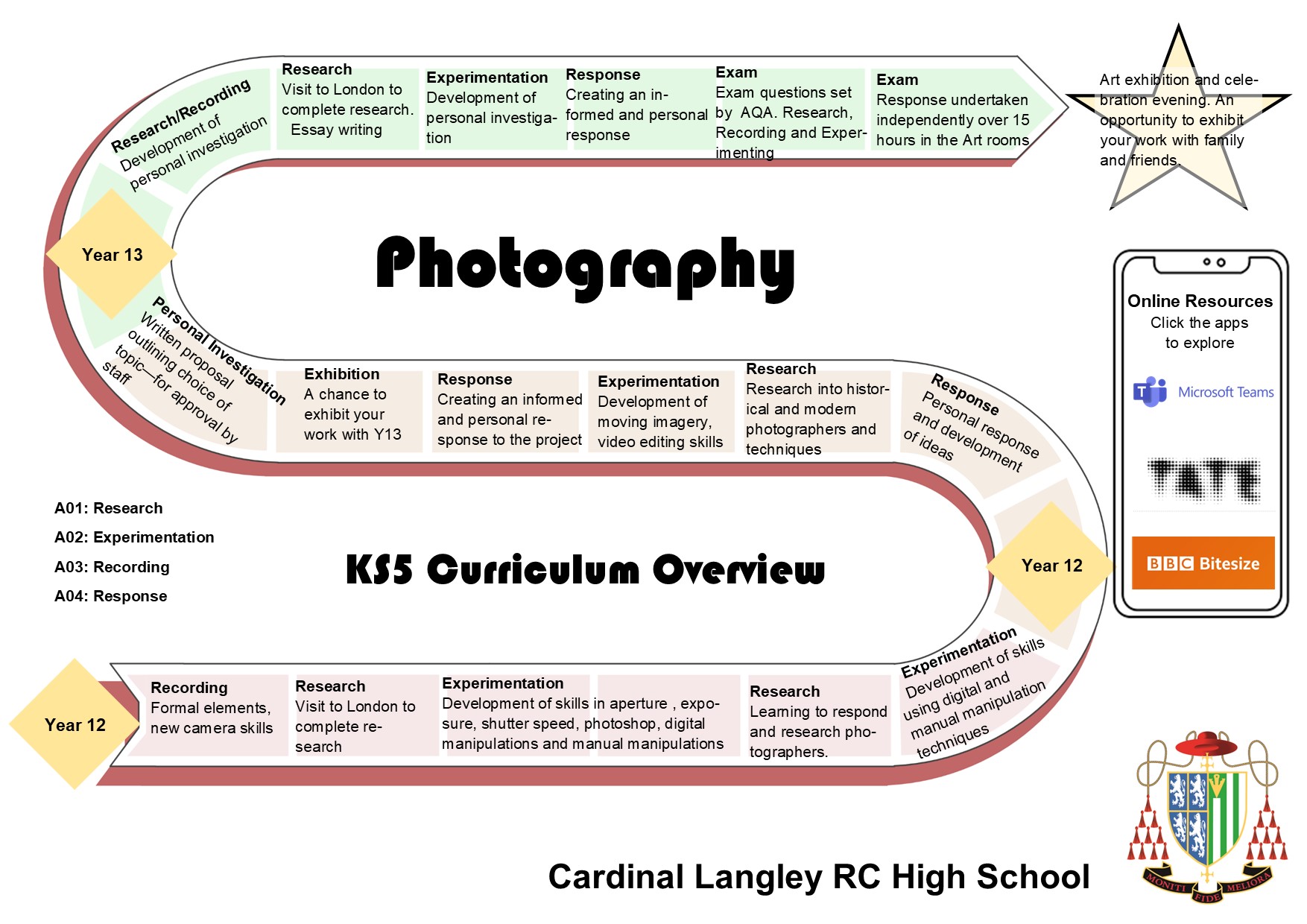 The AS is divided into two Units.  Unit 1 – Portfolio and Unit 2 – Exam, each worth 50%.
The Portfolio unit offers students the chance to experiment with a wide range of techniques and processes through a series of fortnightly practical workshops, including portraiture, still life, architecture and landscape.  Students then produce a project that expands on one of the above themes.
The exam is an externally set entirely practical project which begins on February 1st, ending with a 10-hour controlled assessment.
A2 is divided into two Units.  Unit 3 – Personal Investigation and Unit 4 – Exam, each worth 50%.
The Personal Investigation is a much more focussed unit of work with students expected to explore a range of sources in their research including primary evidence (galleries, museums etc) wherever appropriate.  Students must also complete a 1000 – 3000 word essay.  This leads into a substantial final outcome.  Students have the opportunity to visit London to help with their research and analysis. Previous examples include Social Media, Identity, Journaling and Travel.
The exam is another externally set assignment ending with a 15 hour controlled assessment.