Design & Technology
Design & Technology is a family of subjects which include Product Design, Textiles, Food Technology and Graphic Products. These subjects encourage students to become independent and creative problem solvers, both as individuals and as part of a team. Students study all four subject areas in Years 7 & 8 and can choose them as options at GCSE.
Exam Specification
Design Technology GCSE Specification
Food Prep & Nutrition GCSE Specification
Key Stage 3
At Key Stage 3 in Design Technology students will experience 6 units of learning per year as illustrated below. Students develop technical knowledge and designing and making skills in the context of different material areas that is underpinned by a core D&T unit which scaffolds the learning.
Students will have access to specialist rooms and equipment for each of their specialist areas and learners are expected to apply their knowledge and skills across these specialisms to develop deep understanding of the subject. Emphasis is placed on environmental issues and students will be able to explore the important issues around plastics, and will have opportunities to read articles about wide ranging issues which designers must content with in their industry. In food there is strong focus on health and nutrition and cooking cost effective, nutritious meals for themselves and their families.
During year 9 students will have the opportunity to express a preference for which specialist area they would like to consolidate their learning in; Product Design, Textiles or Food and Nutrition. At the end of this three-year journey students will have gained knowledge and skills which they can transfer to other areas as well as essential life skills. Some students may wish to continue their learning in D&T and progress to student it at GCSE level.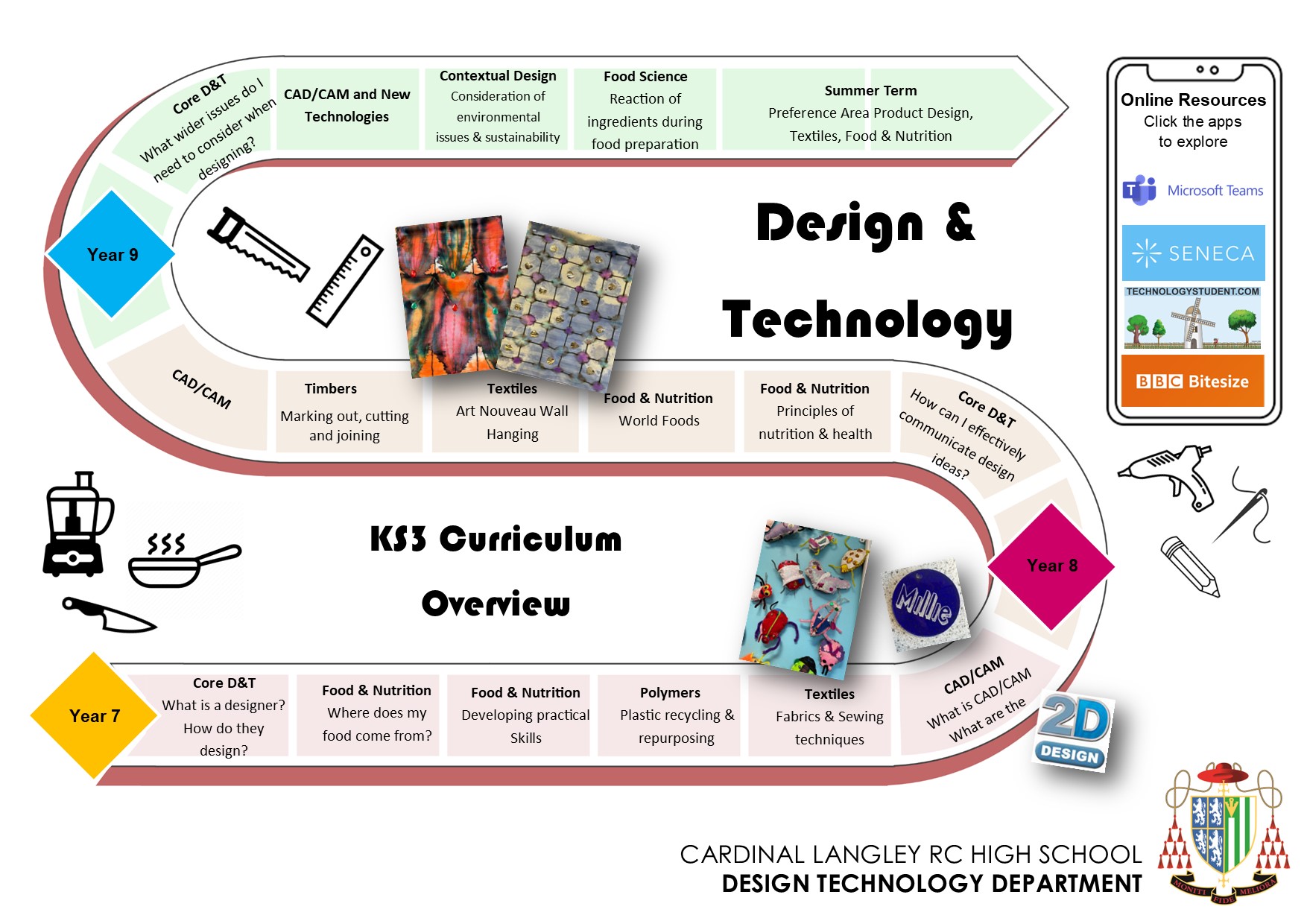 Key Stage 4
In GCSE Design Technology all students study the breadth of multiple material areas; papers and boards, timbers, polymers, textiles and metals, they will then study one material area in depth; either Timbers or Textiles. As part of this course all students will study core technical principles, specialist technical principles (their specialist material area), and designing and making principles. Assessment is through a Design and Make NEA project (50%) and a final exam (50%). More information can be found here: https://www.aqa.org.uk/subjects/design-and-technology/gcse/design-and-technology-8552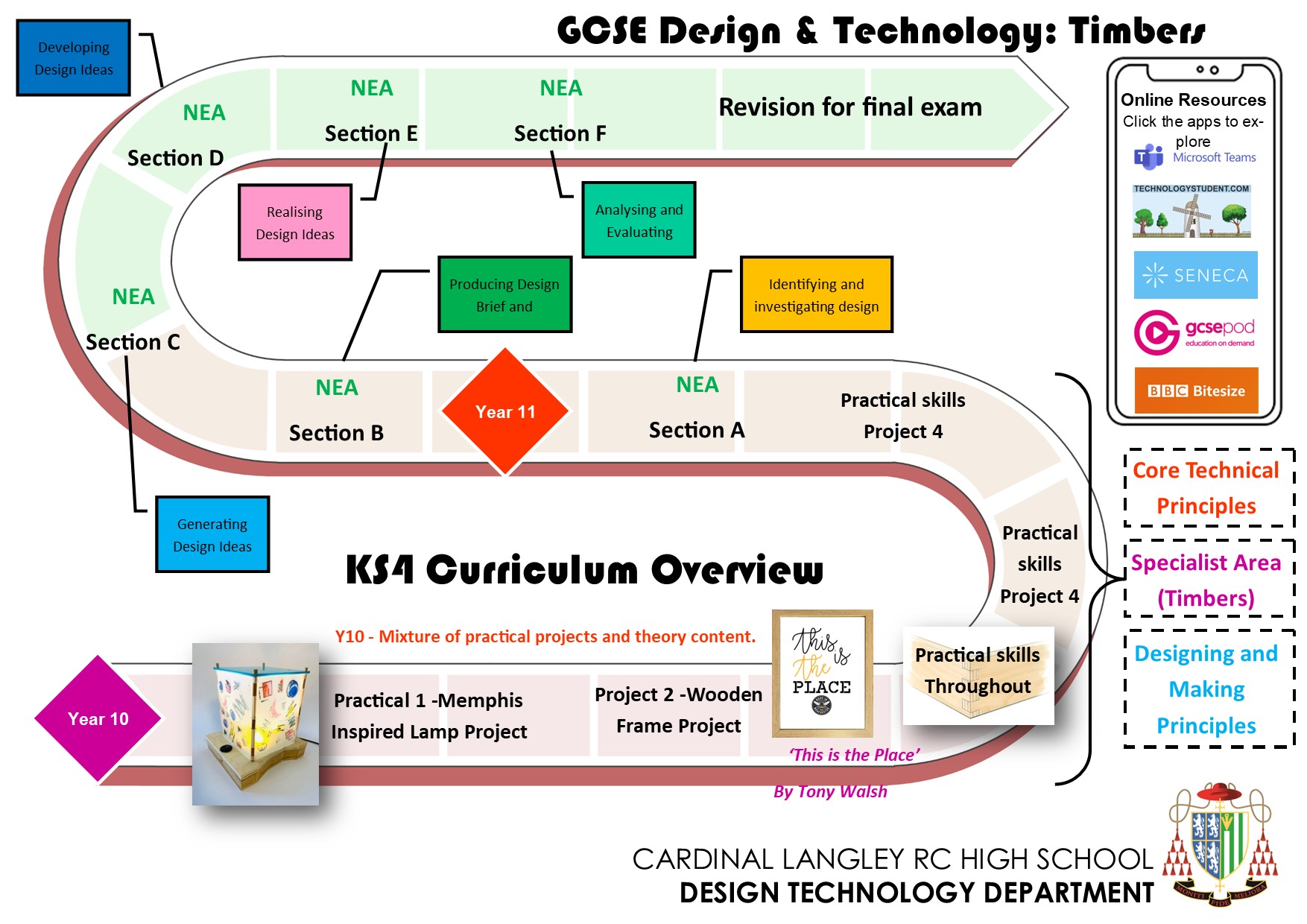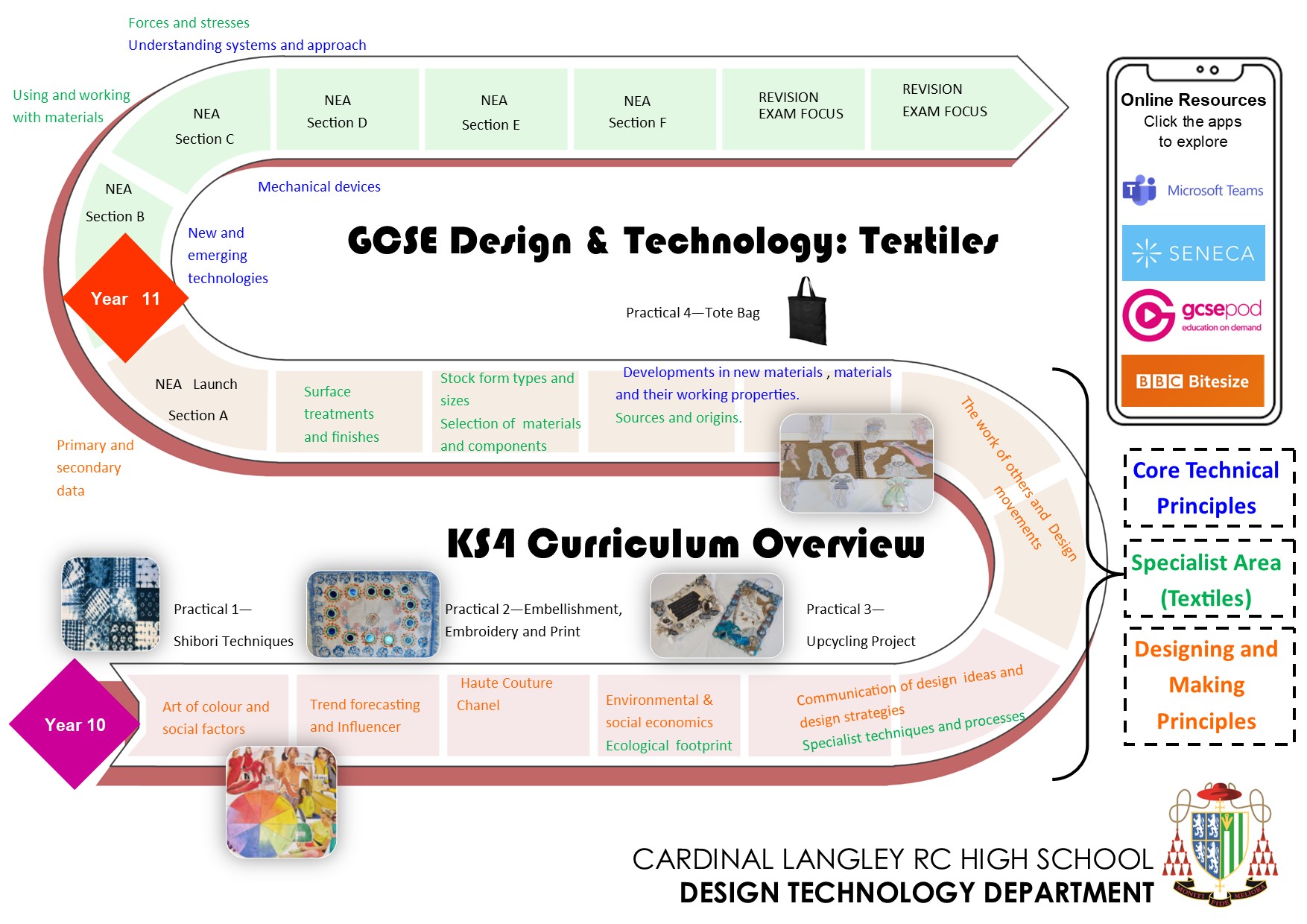 Students will develop their skills in 12 key areas in order to become confident and competent in a range of techniques to prepare, cook and serve food. They will develop their knowledge around food hygiene, nutrition and food science and apply this to their practical outcomes. Assessment is through two NEA (coursework) projects and a final exam. More information can be found here https://www.aqa.org.uk/subjects/food/gcse/food-preparation-and-nutrition-8585